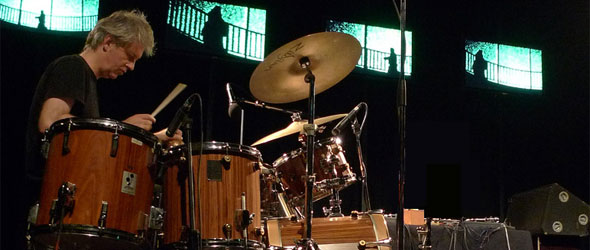 Glacial
A New York based band featuring David Watson on guitar and bagpipes and Lee Ranaldo on guitar. (on occasion with guest DJ Olive )
(more below)
ABOUT
Glacial is an impressively eclectic trio: Sonic Youth's Lee Ranaldo on guitar, The Necks' Tony Buck on drums and Highland Bagpipes' contributor David Watson on bagpipes and guitar.
Ranaldo has been an inventive and influential guitar guru alongside Thurston Moore in one of the most important bands of the past three decades.  Buck has exhibited his percussive fortitude in numerous mile-long productions with The Necks.  David Watson, aside from being an accomplished bagpiper, co-founded Braille Records which championed the experimental music scene of New Zealand.  Three pieces to a bizarre yet fitting puzzle. ( Evan Brown )
REVIEWS
Lately, I've been feeling the pull of marathon aesthetic experiences. Maybe it's the long, sweltering New York summer days baking my brain or a defense mechanism against the obligation to participate in the daily ADHD simulacrum of virtual life, but I've already decided that the extended version of Kenneth Lonergan's colossal film maudit Margaret (2011), is, at over three hours, still a tease. Music-wise, it's a meandering Dead bootleg that stretches into half-day listening sessions or an exhaustive box set. I haven't settled on a sprawling summer read yet, but Adam Levin's mammoth The Instructions beckons from the bookshelf.
It is with this mind-set that I approach Glacial's On Jones Beach, just out on Three Lobed. The album documents a 2005 recording by the trio of Tony Buck, Lee Ranaldo, and David Watson. A 48-minute piece spread over two sides of an LP, On Jones Beach demands patience and focus. Sonic Youth members recording semi-improvised sets with one-off groups is not a breakthrough concept, but Glacial is something different. The criminally under-recorded group exhibits a genuine natural chemistry, but there's also a mind-meld occurring, a sense of the players purposefully revisiting the tropes of fifty years of post-war improvised and avant-garde musics in an effort to create something novel. The result is a record of uncommon self-reflective pull and understated power.
Although On Jones Beach is best heard as one continuous piece, I'm very happy to present an exclusive, 10-minute excerpt of the record. The album is available now via Three Lobed. The limited vinyl edition includes its very own form of bonus material-- a selection of downloadable live tracks. (Adhoc Fm)
One of my favorite documentaries is Werner Herzog's Encounters at the Edge of the World, in which he tries to find out why people want to live in a polar station in the Antarctic. Herzog's camera team (which also includes guitarist and professional diver Henry Kaiser) shoots pictures of incredible and unseen beauty, for example when they accompany divers exploring the water world under the ice or when they listen to the almost inorganic amazing sounds seals produce. In a very poetic scene two physiologists lie down on the ground and press their ears against the ice to listen to the music this world creates. What they hear must be something like Glacial's On Jones Beach.
As unusual as the nature in the film is the line-up of this group. It consists of Sonic Youth's Lee Ranaldo on guitars, The Necks' Tony Buck on drums and David Watson on bagpipes, an instrument you usually do not find in free jazz or free rock contexts. But this is not the only surprise of this album, which consists of the single titular piece that runs almost 48 minutes.
The whole thing starts with a single chord that sounds like a foghorn, but it is an instable, shaky, and quivering one. Ranaldo cross-fades this tone into a long feedback before he uses heavy distortion and shrill sounds. Building up layer after layer of massive sounds you can almost visualize this psychedelic monolith which at the same time sounds like tender echoes from a distant Antarctic desert. The music is already full of energy here, but it seems to be really slow moving – like a glacier (to fulfill every stereotype you might have had considering the band's name). In the following the band builds up an improvisation based on alternative noise rock riffs, drug-infused ambient drones, Glenn Branca minimalism, and free jazz madness, interrupted by a wind-chimish and lyrical drum solo for which Buck uses cymbals, bells and pieces of metal only. If you close your eyes you can actually see snowflakes, icicles, snow grains, and icy winds. The trio rides out on an ice storm of flageolets, single harsh guitar notes and bagpipe loops and after all this expressionist mash-up you can find redemption in clarity.
Even if you are somehow prejudiced against bagpipes you should give the album a try because you will definitely not find anything that has to do with Scottish traditional music clichés. Watson makes this instrument rather sound like a buzz saw. It reminds me even of Evan Parker using his legendary circular breathing technique (especially on the bonus tracks). It is one of the major achievements of this album that Watson has established this majestic instrument in an improv context.
The LP version consists of this track only but it offers a download as well, including three shorter live tracks. "On Friuli Island 1" and "On Friuli Island 2" are taken from recordings made at the Mimi Festival in France in 2003. "On Norfolk Street" was recorded in April 2006, at the legendary Tonic Club in New York City. The tracks are more contemplative in general, but still they have this raw dissonant power, they seem to be great finger exercises for the longer track.
On Jones Beach is published as an edition of 750 copies and is pressed on 140 gram vinyl. (By Martin Schray, Free Jazz)
RELEASES
On Jones Beach (threelobed 2011)
LINKS