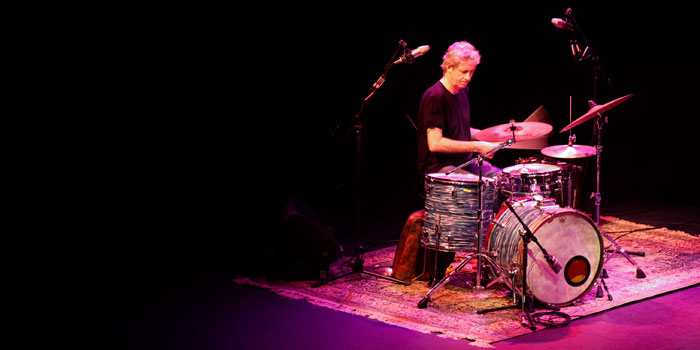 SOLO
Tony Buck has been performing solo concerts for at least two decades. In the past, these performances have often incorporated live electronics and sampling, but, in the last 10 years or so, he has concentrated on creating live, improvised pieces using the drumkit, assorted small percussion instruments, guitar, video and other acoustic sound sources. (main Photo: Holimage)
ABOUT
UNEARTH
(Room40 2017)
Unearth is the first solo recording from Australian born, Berlin based composer and drummer Tony Buck in 15 years.
With Unearth he delivers his most accomplished solo composition. Built across several years, the record is the culmination of his approaches to percussive intensive, pulse and explorations in compositional density. The architecture of this work is framed unsurprisingly around a core of percussion but also draws heavily on Buck's less known interests in guitar, synthesiser and field recordings. These elements coalesce, haunting one another in an evasive manner that is inexorable, creating a slow moving dialogue of extreme dynamic interchange.
Operating at a pace not dissimilar to what one might expect from a recording by The Necks, Unearth explores a gradual, swelling sound mass, teeming with details, cast across long dynamic arcs. Seeming to move at a pace simultaneously brisk and unhurried, the piece represents an exploration of and meditation on, the duality and paradox of time itself. Moments of fragile and infinitesimal sounds contrast with droning, dense layers; melodic and harmonic elements play out against backgrounds of texture and noise. The pieces elements operate together to render an impressionistic multiverse of worlds, unfolding and wrapping themselves around one another. The work exists as a hierarchical sound mass; a sedimentary layering of intensities , unearthed and unearthly.
S_C_U_B_A
(Vitamin Records 2002)
"This recording, made under rather unusual circumstances, represents to me one of those rare occasions when something special happened while the tape recorders were running. I had set out to record an improvised performance on a standard acoustic drum kit, albeit incorporating a few additional small drums, cymbals and little instruments. Ironically, it seems to take quite some time into the piece for a standard drum kit sound to emerge. I think however, it was the first time I had achieved, in a solo context, a kind of slowly evolving carpet of sound that changes little, but can, in some senses, be heard as a constantly moving kaleidoscope of small, restless events, coming and going, but rarely still. A chain reaction of colour in a sound world where nothing changes and nothing stays the same..."
REVIEWS
"... Drummer Tony Buck does not play drums. He is drums. As a magician, he is able to change one instrument out with the other in one flow.
Whiskers, connectors, round, rattle, saw blade.
With a creativity that would make Picasso jealous, he paints with rhythm.
…. A shaman drum is a slow process for a wild horse and cart. The drums rides, neighing, biting, again to rustle softly as quiet wind in a birch tree.
…. Buck shows how there are endless ways to play drums …. marking movement with drumstick on the edge; a circular saw blade in his hand snurres around the drum skin, so the serrations blades against metal edge.
Intrigued, I look at his magical bulging tool bag. What abundance of improvisation and new thinking!"
(review by Mikkeline Gudmand-Hoyer, Modkraft, Denmark)
"..Tony Buck takes his STEIM interactive Drum/Perc/Sampler system through it's paces, not that listening you'd know where the hell the sound was coming from most of the time. An interesting set of pieces by one of the more interesting drummers around on that noise/electronic/rock fringe, and the only one I can think of to use triggered samples in a way that really works...."  (Solo Live review..Chris Cutler, Recommended Reviews)
"..The first 15 minutes of this 40 minute piece sound like someone left the record button on while The Necks' Tony Buck was tidying his studio. Ever so gradually, this transforms onto a frenetic yet somehow delicate drum frenzy. Not for the faint hearted, persistant listening will be rewarded by the feeling that you have in fact heard something slightly magical yet undeniably insane..." (S_C_U_B_A review Juice Magazine)
"... Tony Buck's powerful "Honey/Tongues" also begins with pulsating gong work, but swiftly moves into a rich welter of stroked and pummeled percussion that mutates in an almost liquid fashion throughout the piece. A section toward the middle contains more overt stick playing than one might expect but Buck, by manipulating the timbre of the struck items and generating a woody, semi-tonal quality, maintains a level of interest above and apart from the rhythms employed. Still, the general surging character of "Honey/Tongues" is never far away, a strong ebb and flow, push and pull, that carries the piece forward with irresistible conviction. It eventually billows outward, scraped gongs emitting near-elephantine roars, pounded metal erupting and dissipating into the air..."
(Berlin Drums review Rigobert Dittmann, Bad Alchemy)