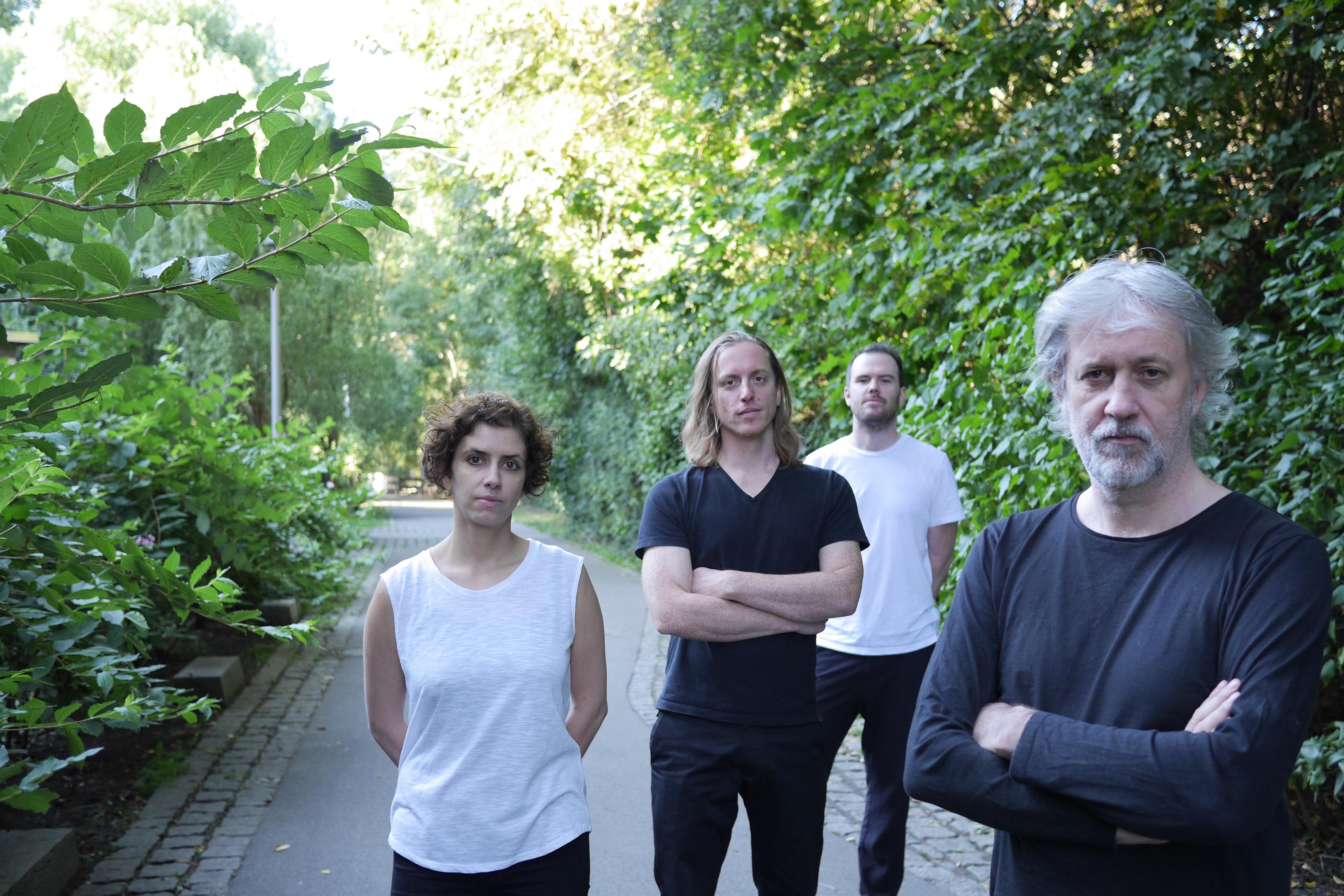 TRANSMIT NEWS
Newest release from last year Radiation (on monotype records) saw the group expand upon the template set-up by the first Transmit release [project], extending the instrumental palate and approach to sonority and song form while retaining the power and drive of the initial group sound.
The addition of the psychedelic organ and keyboard sounds of Magda Mayas merge with the basic line-up of guitar, bass and drums to fuel insistent grooves and stretch the songs into trance and ritualistic dimensions.
Due to commitments of all involved (probably mainly me with a heavy touring schedule the last few years) Transmit performances have been few and far between for the last year or so. A rare opportunity to hear the group will take place on November 27th in Berlin at the Splitter festival.
In keeping with recent performances, the group will construct fresh and open-ended arrangements and a site-specific, tailor-made suite of music, and like in the past, feature guest musician, the fantastic Berlin based, Mexican vibes player Emilio Gordoa.
ABOUT TRANSMIT
A band revolving around the writing, drumming and guitar of Tony Buck, with core line-up of Magda Mayas on organ and piano, James Welburn on bass, and Brendan Doughety playing drums.
The focus here is very much on rhythm and momentum and the layering of parts and sounds. The instrumental line-up of TRANSMIT features driving guitar, throbbing bass, chiming chords, swelling organ and propulsive drumming, combining to bring you a big, slowly building trance machine.
The band has recently performed concerts with extended versions, featuring video and performance and guests, including Steve Heather on drums and percussion, Mike Majkowski on double bass, a horn section of Boris Hauf and Axel Doerner, David Watson on bagpipes and Thomas Meadowcroft on organ.
The group has two releases to date: [project]TRANSMIT on Staubgold in Europe and Vitamin in Australia, and RADIATION on monotype records.
REVIEWS
"…Transmit is pure substance, instinct, sweat, rebellion, irony, freedom…"
(OndaRock)
"…Radiation is an excellent avant-rock album oozing with atmosphere and a dark and somewhat psychedelic vibe.."
(Paul Acquaro - Free Jazz Collective)
"…energetic mix of raw post-hardocore, psychedelia and improvisation.."
(Jan Błaszczak- jazzarium )
"…extremely positive and energetic stream of sound. Great record!."
(Luke Komlecie - nowamuzyka )
"..atonal guitar riffs dart about like mutant sparrow-hawks, and the work is propelled by energetic, remorseless drum tracks..
..Muscular…angular…not an ounce of fat or gristle.." (Sound Projector)
"..'Radiation' is a rock record, but not one of the easy kind. The rhythms are complex but catchy, each instrument is equally important and the long stretches buoys generally from the beginning to the end.."  ( Opduvel )
[project]TRANSMIT:
Ben Michael of Australian Rhythms magazine calls it "...big exciting music. It punched me in the face from the opening chord and didn't let up for its duration. ..one of the great rock records of the year."
"..Musically, unexpectedly buoyant, muscular"....SPEX Germany "
"..a finely-tuned and relentless tempest. Savage, driving rhythms snake their way through every song, simultaneously a defining focus and an element of total instrumental synergy" w (Rave Magazine)
"..This album keeps you on your toes, leaves your nerves on edge, never able to settle despite its strongly minimalistic rhythmic nature. ...He has set out to achieve a "sound and momentum" and has achieved that and more. Disturbingly excellent." (By Chris Peken. -Alternative Media Group)