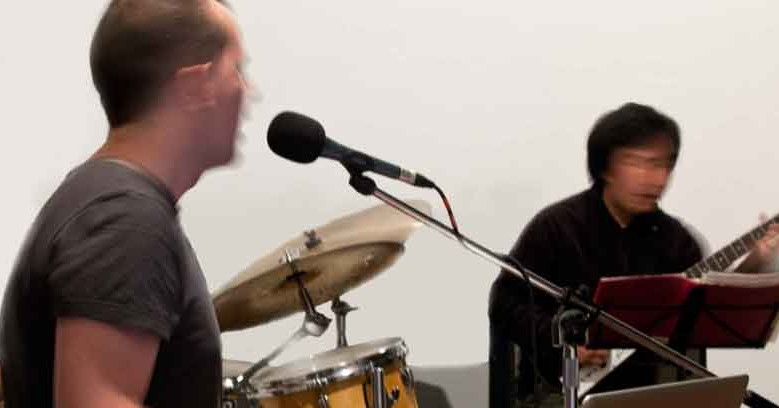 Trophies
Trophies is a project led by Alessandro Bosetti – voice and electronics.
Focusing on loops of spoken/sung abstract and highly emotional text and features the fretless guitar of Kenta Nagai and the textural and pulse driven drumming of Tony Buck.
ABOUT TROPHIES
Focusing on loops of spoken/sung abstract and highly emotional poetry, Bosetti has created a powerful trance band where voice and electronic sound melt with the hallucinatory fretless e-guitar playing of Kenta Nagai and the patiently groovy and virtuoso pulses of Tony Buck.
Trophies uses lengthy, repetitive and highly dynamic text-sound forms in a totally unique and genre defying way.
… In the work of composer Alessandro Bosetti, the gap between music and speech gets a lot smaller. Both in his solo music and with his trio Trophies, he explores what he calls "repetitive speech-loop forms." Frequently, this involves him recording people either reading lines or speaking extemporaneously, then transposing the recordings into written music. Often, Bosetti then speaks the same words himself in conjunction with that music. On his latest solo CD Royals and Trophies' new album Become Objects of Daily Use (both released by Polish label Monotype), he constantly questions the roles of music and speech: whether they convey literal meaning, act as pure sound, or do something in between … (Marc Masters - Pitchfork)
REVIEWS
" ... In an incomprehensible way – but seemingly driven by primal forces - the trio succeeds to hypnotize. The work is uncomfortable and complex, no comparison comes to mind. It is like the craving that is close to addiction. Yes, this music is thrilling, emotional and crushingly impressive." Jan Willem Broek - Caleidoscoop
"… Bosetti's trio shows us an unexpected way where both abstraction, absurdity and musical trance coexist. It's like Alfred Jarry was reading the local newspaper and got stuck among print errors. " Thomas Millroth - Sound of Music.
" ... Riddled with humor and playfulness … It's a sparkling coherent and precise album and makes for riveting listening as the changes are constant. They were on the ball during the recording; you need to be on the ball to listen." Hassni Malik - Progress Report